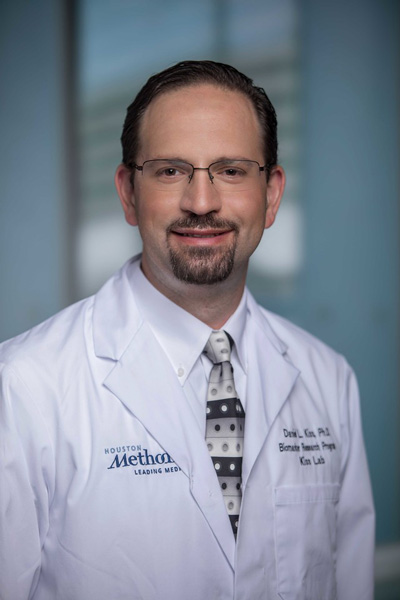 Daniel L. Kiss, Ph.D. (Principal Investigator)
Orcid – Linkedin – @Kiss_RNA_Lab
Daniel L. Kiss, Ph.D. is an Assistant Professor in the Department of Cardiovascular Sciences and a member of the Cardiovascular Regeneration and RNA Therapeutics Programs at the Houston Methodist Research Institute (HMRI) in Houston, Texas.  Dr. Kiss is also an Associate Research Member of the Houston Methodist Cancer Center and holds an appointment as an Assistant Professor of Molecular Biology in Medicine at Weill Cornell Medical College.
Dr. Kiss grew up in a West-side suburb of Cleveland, Ohio.  As the son of two immigrants from Hungary, he's both a #FirstGen American and college graduate.  He earned both his B.S. and M.S. in Biology from Cleveland State University in Cleveland, Ohio.  He was first introduced to RNA biology when he completed his master's thesis studying transcriptional regulation in Dr. Tomasz Kordula's (currently at Virginia Commonwealth University) laboratory.  He then completed his doctoral and postdoctoral training at institutions with large and vibrant RNA biology research communities.
He earned his Ph.D. in Molecular Biology and Microbiology from Case Western Reserve University in 2010, where he was part of the Center for RNA Molecular Biology (now The Center for RNA Science and Therapeutics).  His doctoral work in the lab of Dr. Erik Andrulis focused on how the RNA exosome, the predominant RNA degradation machine for mammalian cells, was regulated and functioned in RNA processing and turnover.
He then moved to The Ohio State University for his postdoctoral research where he was part of The Center for RNA Biology.  Under the supervision of Dr. Daniel Schoenberg, he earned a Pelotonia postdoctoral fellowship to begin his cytoplasmic capping research.  He then secured a second postdoctoral fellowship as Oncology Training Grant (T32) fellow to continue his cytoplasmic capping research.  He also collaborated with other groups at Ohio State, where he was the lead author on three published paper that examine the mechanism by which the FHIT tumor suppressor controls the translation of certain cancer-linked mRNAs. He continues his focus on cytoplasmic capping of RNAs and FHIT-mediated translational regulation at the HMRI.
As an independent principal investigator, Dr. Kiss contributes to the broader scientific community.  He's served as a peer reviewer for many journals, served on Study Sections for the National Institutes of Health and the American Heart Association and reviewed grants for the Medical Research Council (MRC) in the United Kingdom.  He is an active member of multiple scientific societies related to his research, including the RNA Society where he serves on the membership committee.  He is committed to outreach efforts to raise awareness, interest, and diversity in biomedical research.  His perspective as both a #firstgen American and first generation academic scientist strongly inform his approaches to mentoring, fostering opportunities, and community service.
Outside of the lab, Dan enjoys cycling, traveling, watching sports (baseball, soccer, and college football) and above all, spending time with his wife and his daughter.
Postdoctoral Fellows and Research Associates: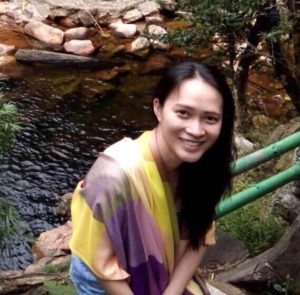 Trinh Tat, Ph.D. (Research Associate II, Program Project Manager)
Before coming to the United States, Trinh earned both a B.S. in Biotechnology and M.S. in Genetics from the VNUHCM University of Science – Ho Chi Minh City, Vietnam.  Upon completion of her Master's degree, Trinh was awarded a prestigious Vietnam Education Foundation Fellowship to pursue her Ph.D. in the United States.  In 2009 she joined the lab of Dr. Tim Nilsen at Case Western Reserve University (CWRU) in Cleveland, OH where her research focused on the regulation of mRNA stability by deadenylation elements and miRNAs.  She completed her research and received her Ph.D. degree in Biochemistry in August of 2015.  Immediately after completing her Ph.D. she joined Coller Lab at The Center for RNA Science and Therapeutics, CWRU as postdoctoral researcher.  Her work in the Coller Lab focused on investigating the mechanism of action of drugs for targeting certain CFTR mutations.
In 2016, as a condition of her Vietnam Education Foundation Fellowship she returned to Vietnam to share her training.  During these two years, she gained industry experience as she was appointed as Regulatory and Technical Relations Manager at Procter & Gamble.
Dr. Tat joined the Kiss RNA Lab on December 3, 2018.  Her current research projects include designing, constructing, and experimentally evaluating novel RNA therapeutic candidates.  She is also pursuing bioinformatics training and was co-mentored by Dr. Kaifu Chen for 2 years.  She has utilized that informatics training and data mining techniques to predict and evaluate putative cytoplasmic recapping sites in mammalian cells and has experience analyzing eCLIP, RNA-Seq and ChIP-Seq data as well.
Outside the lab, she enjoys traveling and spending time with her family and friends. Experiencing new cultures, enjoying new natural spaces and meeting new people are always on her top to do list during her vacation. She also enjoys doing flower arrangement and interior design whenever she has some time to spare.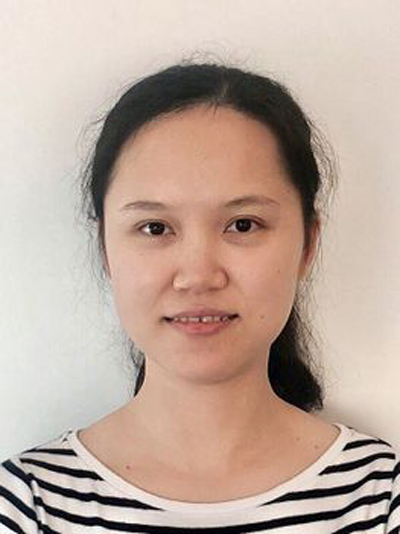 Min Zhang, Ph.D. (Postdoctoral Fellow)
Min earned her B.S. degree in Biological Engineering from the renowned Xiamen University in China. After that, she earned her Ph.D. in Cell Biology from the University of Science and Technology of China, which is a member of the C9 League, China`s equivalent of the Ivy League. Min joined Dr. Tao Zhu`s lab for her Ph.D. research where she was first introduced to cancer biology. Her thesis work was focused on exploring the pivotal roles of a hypoxia-induced secreted protein in hepatocellular carcinoma progression and another secreted factor involved in the transformation of non-malignant human mammary epithelial cells. She completed her research and received her Ph.D. degree in 2016.
She came to United States and began her postdoctoral training at Houston Methodist to study the transcription factors to modulate memory T cell formation. She then transferred to Dr. Kaifu Chen`s lab in Department of Cardiovascular Science. During these two years, she studied the chromatin remodeling factors driving the prostate cancer progression. Min joined the Kiss RNA Lab in October of 2020. Her current research projects include cytoplasmic recapping and developing multiple RNA therapeutic candidates to target glioblastoma multiforme.
Outside the lab, Min enjoys spending time with her husband and daughter. She also enjoys cooking Chinese food, baking, and reading novels.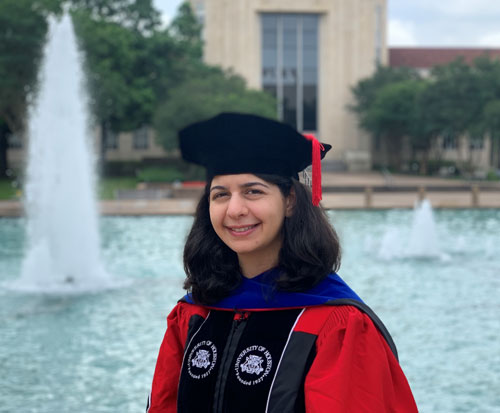 Nada Bejar, Ph.D. (Postdoctoral Fellow)
Nada was born in Sfax, Tunisia. She earned her Ph.D. in Biochemistry from the University of Houston where she worked under the supervision of Dr. Robert J. Schwartz. Nada worked on targeting the Hippo pathway to induce cardiac cell proliferation. During her Ph.D. then later as a postdoctoral fellow at the University of Houston, she tested different RNA therapeutics types like silencing RNA and synthetic messenger RNA to promote cardiac cell division and reduce apoptosis. She also worked on a virtual screening of small molecules targeting Hippo pathway components. A portion of her thesis work is the subject of a recently-filed patent application.
Prior to coming to the USA, she worked in the Toulouse Biotechnology Institute, France (former LISBP-INSA) first as a student as part of her capstone project, then was hired as a study engineer. Under the supervision of Dr. Gabrielle Potocki-Veronese, she contributed to the screening and discovery of novel enzymes degrading plastic polymers and carbohydrates using high-throughput screening platforms. Nada graduated among the top of her class from the National School of Engineers of Sfax, Tunisia with a degree in Bioengineering/MS I (Biotechnology major). Nada was among the top 25 in the national examination for accessing an engineering university. She graduated from the Sfax Preparatory Engineering Institute with a Bachelor's in Biology and Geology. During both her Bachelor's and Master's degree in Bioengineering, Nada had multiple internships in the Center for Biotechnology of Sfax, Tunisia. She worked on in vitro enzyme characterizations and was introduced to genomic analysis. She worked under the supervision of Dr. Samir Bejar, her father, who inspired her to purse a scientific career.
Dr. Nada joined the Kiss RNA lab on April 2021 as a postdoctoral fellow. She is involved in developing covid-19 vaccine candidates and candidates for current/possible variants. She will also work on developing RNA therapeutics for cardiovascular diseases and RNA cytoplasmic capping projects.
Outside the lab, Nada likes to spend time with her family and friends, traveling, playing guitar and board games. Nada also enjoys baking and organizing get-together events.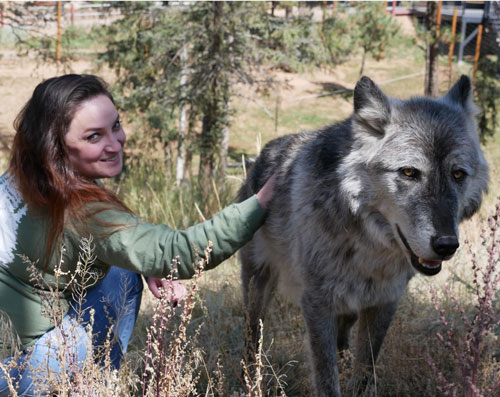 Rachel Kieser, Ph.D. (Postdoctoral Fellow)
Rachel is a forensic geneticist turned RNA biologist. She grew up in Texas and received her Bachelor of Science in Biochemistry from the University of North Texas in May 2012. She continued her education in Washington, DC where she earned her Master of Forensic Science in Forensic Molecular Biology at The George Washington University in 2014. With a love for science as motivation, Rachel earned her Ph.D. in Biomedical Sciences under the discipline of Molecular Genetics from the University of North Texas Health Science Center in 2020. She trained under the mentorship of Dr. Bruce Budowle, a world-renowned forensic geneticist, where her research focused on low copy number (LCN) DNA and its application to human identification. Rachel's doctoral research involved the investigation of novel molecular methods to improve autosomal marker typing for LCN and highly degraded DNA from poorly preserved human skeletal remains (ancient DNA), and other biologically damaged samples. Ultimately, her doctoral research resulted in the development of a one-step sequencing-based technology, Reverse Complement-PCR (RC-PCR). This new approach assisted in the identification of the putative remains of the Spanish Royal House of Aragon dating back to the 9th century, AD.
Upon graduating with her doctorate, Rachel continued her training as a postdoctoral fellow at the Houston Methodist Research Institute under the guidance of Dr. Ruli Gao where she switched fields to explore the world of single-cell genomics and its application to disease. Rachel developed a technique leveraging the single-cell isolation and barcoding/tagging ability of commercially available single-cell platforms with established long-read sequencing systems to render a more comprehensive same-cell profile. In January of 2022, Rachel joined the Kiss RNA Lab and her research project will be to work and contribute to the lab's cytoplasmic recapping project. In particular, she will use (and possibly design) advanced library preparation methods for Next- and Third-generation sequencing technologies to investigate and validate the sequence-based drivers of this new tier of post-transcriptional gene regulation.
When she is not hitting the lab bench or spending time with family and friends, she enjoys watching sci-fi movies, crafting, and spending time with her pup, Lucy.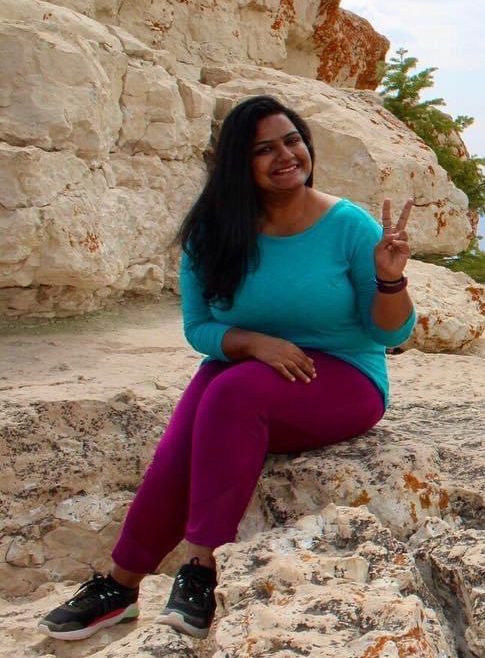 Suchitra Sridhar, MS (Research Associate I and Lab Manager)
Orcid – LinkedIN
Suchitra comes from India, truly a land of diverse cultures, and grew up in the city of Mumbai. In the year 2010, she completed her thesis work from Indian Council of Agricultural Research, Goa. The aim of her study was to classify saline tolerant bacteria from the coastal regions of Goa as potential plant growth promoters and potential inhibitors against fungal pathogens which affected the mangrove forests of Goa causing root rot diseases. In 2011, she attained her master's degree of science after majoring in Biotechnology from University of Mumbai.
In 2012, Suchitra completed a post-graduate diploma in Clinical Research and worked in the pharmaceutical industry for two years. Some of her core skills include managing clinical data for cardiovascular and oncology related trials, serious adverse event reconciliation, pharmacokinetics and pharmacodynamics of drug discovery and analysis. In the year 2018, she graduated from University of Houston, Clear Lake with a master's degree that specialized in Cancer and Molecular Biology and Bioinformatics.
Upon completing her Master's degree, she joined Baylor Genetics as a Medical Genetics Technologist where her role entailed prenatal genetic testing and whole exome sequencing. Later, in 2020 she became a part of the Biomarker target discovery group at Immatics which aimed at delivering T cell therapies to cancer patients. She is also well acquainted with lab audits and has conducted CLIA CAP inspections successfully. She joined the Kiss RNA Lab as its lab manager in late July of 2022 and will aid both the lab's basic science projects and its efforts to develop novel RNA Therapeutics.
Off her job, she is a nature enthusiast and loves to travel. She likes experimenting with gardening and cares for plant health. She is also an avid music lover and enjoys karaoke.
Coming soon (Research Associate I)
Orcid - LinkedIN
Coming soon (Postdoctoral Fellow)
Orcid - LinkedIN
Coming soon (Postdoctoral Fellow)
Orcid - LinkedIN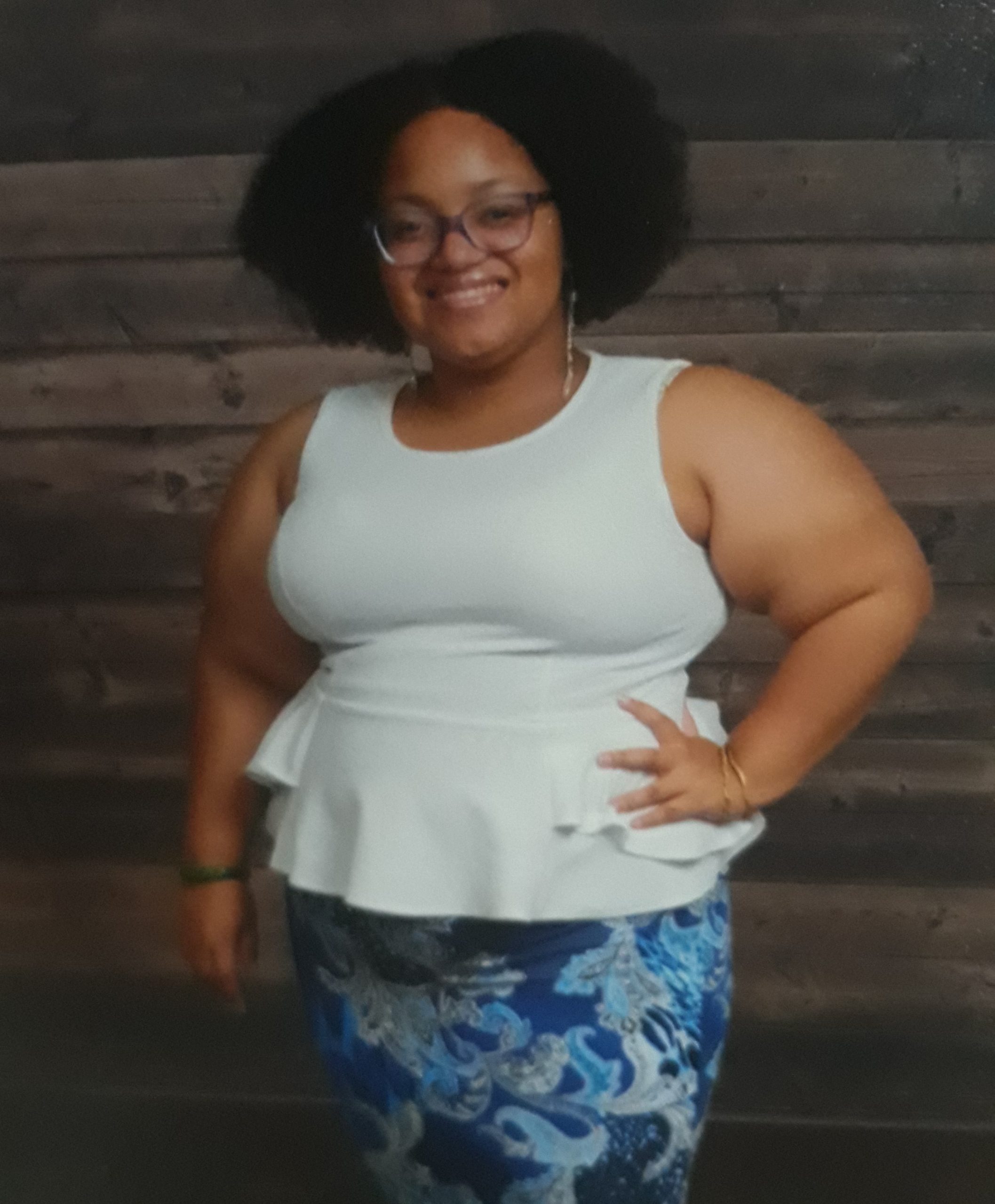 Tiara Watson (Research Assistant I)
Tiara Watson was born and raised in Houston Texas.  She has always been interested in the biological sciences, specifically entomology.  Tiara's fascination with insects dates back to when she was four years old.  She has been  involved in all aspects of entomology, from catching and raising caterpillars to planting butterfly gardens with her grandfather.
Tiara received her Bachelor of Science in Biology from the University of Houston- Downtown in 2020.  While there, Tiara was able to put those skills to use in Dr. Jeffery Flosi's mosquito research lab.  After graduating, Tiara was hired by an independent lab, where she worked on the front lines during the Omicron surge in their Covid RNA extraction lab. During her time there, Tiara personally tested thousands of patient samples, and became interested in the RNA extraction process and the different assays that can be performed with RNA.  Tiara joined the Kiss RNA lab as a Research Assistant I where she hopes to refine and expand her skills in the lab.
Beyond the lab, Tiara enjoys a myriad of hobbies such as singing in choir, traveling, hiking, gardening, playing with her senior pup KK, and, of course, collecting and raising insects.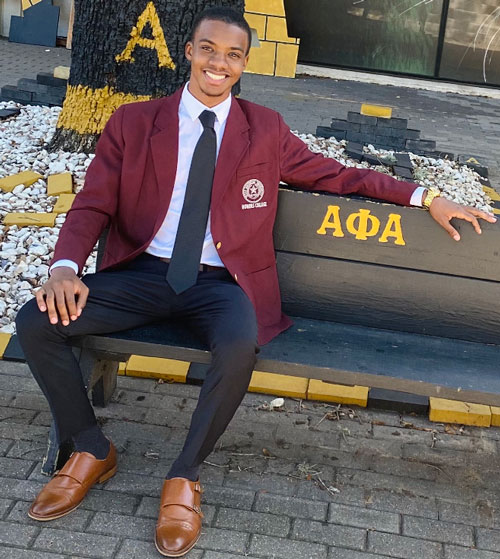 Blake Melton (Research Technician I)
Blake is currently pursuing his Bachelor of Science degree in Biology with a minor in Psychology at Texas Southern University with aspirations of becoming an Anesthesiologist and obtaining a Ph.D. in Cancer Biology. Blake is actively involved on his campus and holds leadership positions. He is a part of the Student Government Association where he currently serves as Deputy Attorney General, Texas Southern University's N.A.A.C.P chapter where he serves as the Juvenile Justice Chair, Residential Life and Housing where he is a Resident Assistant, he is a part of the Thomas F. Freeman Honors College at Texas Southern University, and is the Director of Educational Activities for his current chapter the Delta Theta Chapter of Alpha Phi Alpha Fraternity Inc.
In his free time, Blake enjoys reading books, fishing, watching basketball, football, and soccer, exploring new music, serving his community, and watching movies/TV series. However, most of all, he loves obtaining all kinds of knowledge!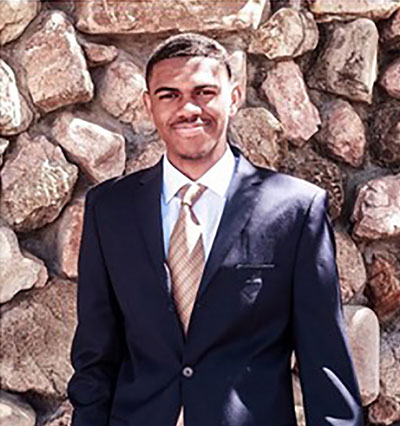 Shaun Stevenson (Research Technician I)
Shaun was born and raised in Mansfield, TX where he attended Mansfield High School, graduating with honors. After graduating Shaun received a presidential scholarship-granting him a full scholarship to attend Texas Southern University where he is currently enrolled as a junior. At Texas Southern, Shaun is pursuing his B.S. in biology while being a member of the Thomas F. Freeman Honors College.
Shaun has had a passion for science for as long as he can remember. One of Shaun's main beliefs is that to effectively practice medicine, you must fully understand the science behind it. After being awarded the opportunity to attend the Annual Medical Education Conference, where he spoke to multiple physicians who were also researchers, he discovered what the field had to offer and acquired an interest in diving further into research. With that in mind, upon graduating from Texas Southern he plans to pursue an MD/PhD with the goal of becoming a physician. Shaun's future career aspirations include providing healthcare and engagement resources to underprivileged minority communities in the US and around the world.
Outside of the lab, Shaun enjoys cooking, watching sports, and lastly most dear to him, giving back to his community. Shaun is a member of multiple school organizations at Texas Southern University including the Minority Association of Pre-Medical Scholars and the Student Government Association where he serves as the Academic Affairs Senator. Through these organizations, Shaun has had the opportunity to give back to the community by tutoring students at local Houston high schools.
Past members:
Keisha Hardeman, Ph.D.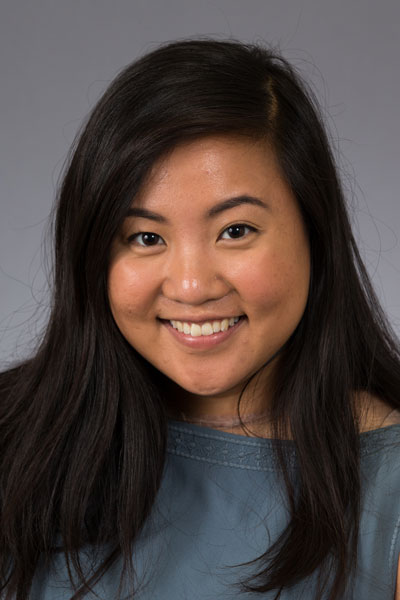 Amelia Khoo (EnMed rotation Student, October - December 2020)
Amelia is medical student in EnMed, a dual-degree MD-MEng program at the Texas A&M College of Medicine. She originally hails from Alameda, California. She earned her B.Sc. with Honors in Biomedical Engineering at Brown University in Providence, Rhode Island, where she conducted her honors thesis on vascularization trends in patterned engineered cardiac tissue for regenerative medicine in the lab of Dr. Kareen Coulombe. For her senior capstone project, she helped design a laparoscopic stapler attachment that adapts the tool for individuals of varying hand sizes. She has also partnered with clinicians at UCSF to design and prototype a device for streamlined control of the neurosurgical microscope. Following graduation, Amelia worked as a healthcare consultant at Triage Consulting Group and a volunteer music therapist for hospice patients. As a medical student, Amelia is passionate about reducing the barriers which contribute to healthcare disparities and the ways in which design and technology can be applied to these issues.
Amelia enjoys singing, playing Ultimate Frisbee, calligraphy, and trying out new baking recipes. Despite being new to Texas, she is enjoying all that Houston has to offer, although she is currently welcoming any and all tips for adjusting to the heat!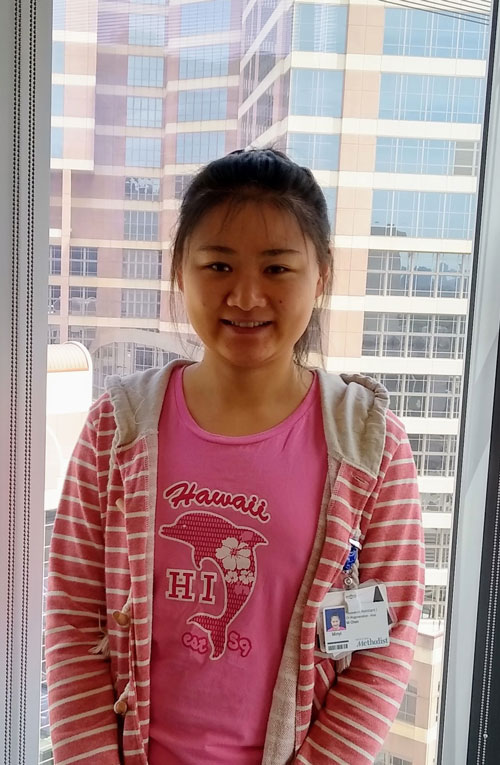 Minyi Chen, MS (Visiting Scholar, July 2021 - January, 2022)
Minyi Chen was a Visiting Scholar in the lab from July, 2021 until December 2021. She began her education at the University of Houston, earning a Bachelor of Science in Biology at the end of 2014. After that, she continued her work at Wright State University in Dayton, Ohio where she earned a Master's Degree in Biochemistry and Molecular Biology in August of 2017. From there she began her PhD studies at the Medical University of Vienna in Vienna, Austria where she will complete a PhD in Malignant Disease. While in the Kiss Lab, Minyi worked with Dr. Min Zhang to design and test RNA therapeutics to complement existing treatments for glioblastoma multiforme.
In her spare time Minyi enjoys shooting and post-editing short videos, and painting.
Update: Congratulations to Minyi as she defended her thesis in December of 2021.  She has since taken a postdoctoral position at the UniversitätKlinikum Heidelberg, Institut für Imunologie (University Clinic Heidelberg, Institute for Immunology), in Dr. Axel Roers group in Heidelberg, Germany. Congrats again Minyi! We know that you'll do great science there.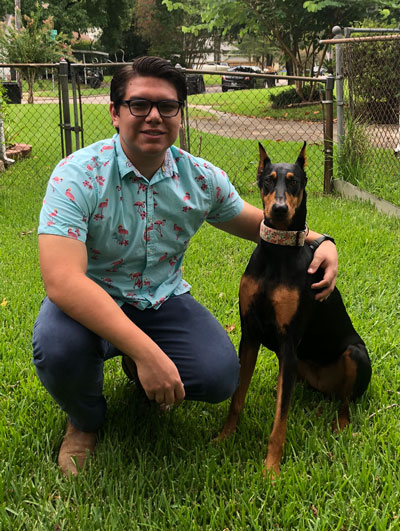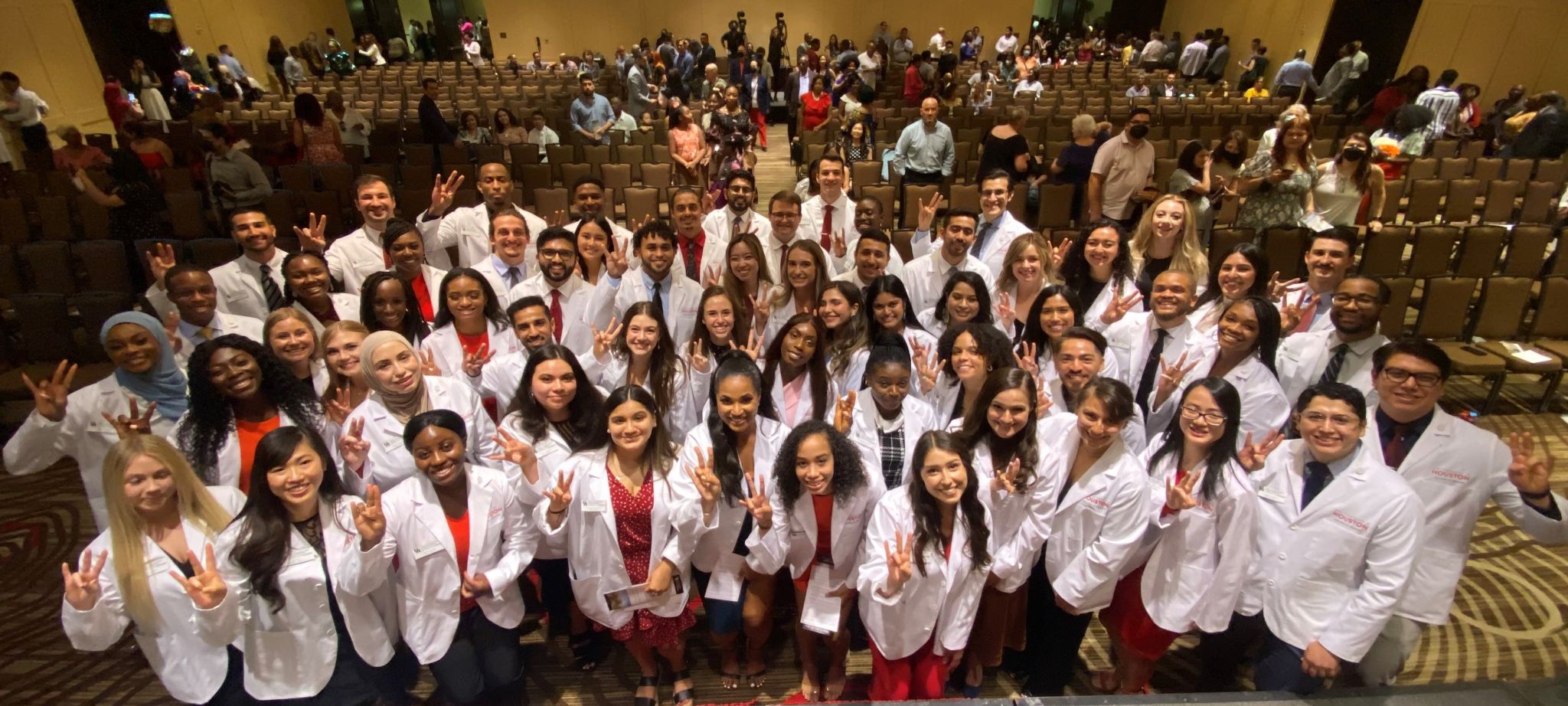 Rolando Alvarado (Research Assistant II, May 2018 - May 2022)
Rolando Alvarado was born in the Rio Grande Valley a few minutes north of the US-Mexico border. Rolando excelled at the South Texas High School for Health Professions in the Rio Grande Valley and was awarded a Terry Foundation scholarship.  As a Terry Foundation scholar, Rolando received an all-expenses paid scholarship to a public university in Texas.  Rolando selected the University of Houston where he completed his Bachelors of Science (graduating with Honors) majoring in Biochemistry, minoring in Chemistry. During his final year, he became interested in research during a nucleic acids course. Upon completion of the course, he volunteered and trained under the mentorship of Dr. Preethi Gunaratne and one of her graduate students.
After graduating, Rolando was hired by the Kiss RNA Lab to work on the cytoplasmic recapping project.  With the mentoring of Dr. Kiss on this project, Rolando has learned dozens of different lab techniques and assays.  His contributions to the lab's work were recognized as was included as a co-author in the Kiss RNA Lab's first publication. Rolando is currently contributing both to the lab's cytoplasmic capping project and has been a key driver of the lab's SARS-CoV-2 vaccine effort.
Outside of the lab, Rolando enjoys sampling various hobbies like tinkering on vehicles to small home-improvement projects. He enjoys taking on new challenges outside of his scope to gain new practical skills. His pride and joy comes from playing with and training his Doberman pinscher, Hera. He and his wife hope to train her as a licensed service dog to help counter the negative-stigma that often is associated with the breed.
Update: Rolando Alvarado was a research assistant in the Kiss RNA Lab at the Houston Methodist Research Institute for just over 4 years. He was a key contributor to the lab's early research and has been recognized with authorship in two publications with one or two more to go.  Rolando left the lab at the end of May 2022 when he was admitted into medical school at the University of Houston.  We wish him all the best and know that he'll be an excellent physician.
Update II: Rolando's White Coat ceremony (in August 2022) photo added.